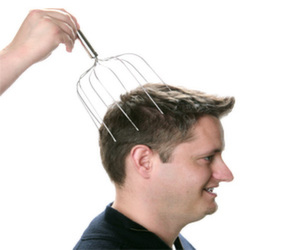 The Scalp Massager will send tingling sensations from scalp to toes and transport you to a more relaxing place. The custom fit fingers will bend to fit your head. Gently raise and lower the Scalp Massager for a relaxing massage. The smooth tips glide across the surface of your scalp. Use it on your knee joints, elbows, ankles and scalp.
Continue reading
Product Review:
I enjoy giving myself massages but I've always had difficulty attaining the perfect head massage. I decided to buy this product spur of the moment one day but completely forgot about it. A couple weeks later I was feeling kind of bummed out. I hadn't gotten any responses to any of my craigslist ads and I had already spent a lot of money on lube and massage oils. That's when I remembered that I bought the head massager device! I whipped that badboy out at put it to use.
The pleasure was intense. It was like being at an amusement park naked while on ecstasy. Only this time, I didn't have deal with cops trying to taser me. The feeling was simply euphoric. As I scraped the massager against my head my pleasure became audible and I began to moan without control. I got caught up in the joy of the moment of and took out my extra lotions and lube and poured it on my self. It was an amazing experience that lasted for the full 30 minute bus ride.
Now I use my head massager frequently and I noticed I have significantly less stress than I did in the past. Definitely a great purchase.